Do you remeber my 'Stairway to Heaven' post, a couple of weeks ago? I wrote that Ireland had something similar...well, here it is!
ph curtesy of niexplorer.com
This place is Cuilcagh Mountain,
a mountain right on the border between
County Fermanagh
(
Northern Ireland
) and
County Cavan
(
Republic of Ireland
). If you're a Pinterest addicted (like me)
then you've probably already seen this woodden
boardwalk
on a few "must do" lists of things interesting to do/see in both countries.
The Cuilcagh Legnabrocky Trail has been built to

protect the soil and vegetation from erosion caused by walkers, its

length is of 1.6 km

(more or less like the Champs-Élysées in Paris or Via del Corso in Rome) and has 450 steps. The panorama all around it is breath taking, with an amazing view on Lough Atona, a lake based at the foot of the mountain. Usually the trail isn't

crowed, so the hikers can relax during the walk.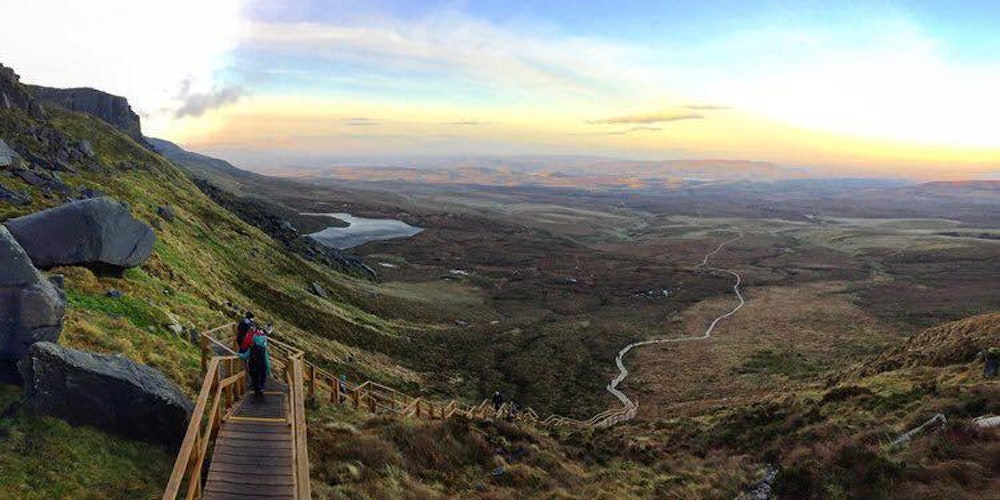 ph curtesy of
niexplorer.com
In 2001 the mountain and the surrounding territories were recognized as one of UNESCO first European Geoparks and Global Geopark in 2004. It appears to be a trail that requires a good physical preparation, since it is

665 metres above see level and one of the highest point in both counties.
Have you ever been here or is it now on your travel wish list?