Time for a bit of historical contest here!
Northern Ireland conflict is the name for a series of riots that took place in Northern Ireland between the end of the 60s and the end of the 90s. Since Northern Irland was (is) part of the UK, the ufficial religion was the Protestantism while the Catholic minority was discriminated. That (and the fact that Catholics were unable to win political election) was the spark that lightened the riots. From peaceful demonstrations to real act of terrorism and England's iron fist, this conflict spread throughout 3 decades.
The movie I'm about to review is the fictionalized story of 2006 real peace talks between Sinn Fein (independent movement) leader Martin McGuiness and Democratic Party leader Ian Paisley, that were forced to travel by car together to reach E
dinburgh airport.
Ian Paisley is with his staff in St.Andrews, Scotland, and so is his polical opponent Martin McGuiness. British Prime Minister Tony Blair and Ireland's Premier Bertie Ahern are there as well.
In the movie, these talks don't even happen because Ian Paisley has to leave in order to catch a flight back to Belfast, where he will celebrate his 50 years of marriage's party. Martin McGuinnes (former IRA leader) doesn't want to be played like a fool and joind Paisley in the car ride to the airport. Jack is their driver, which happens to be more than a

simple chauffeur: he's an under cover British agent, constantly in contact with his direct superior and Blair.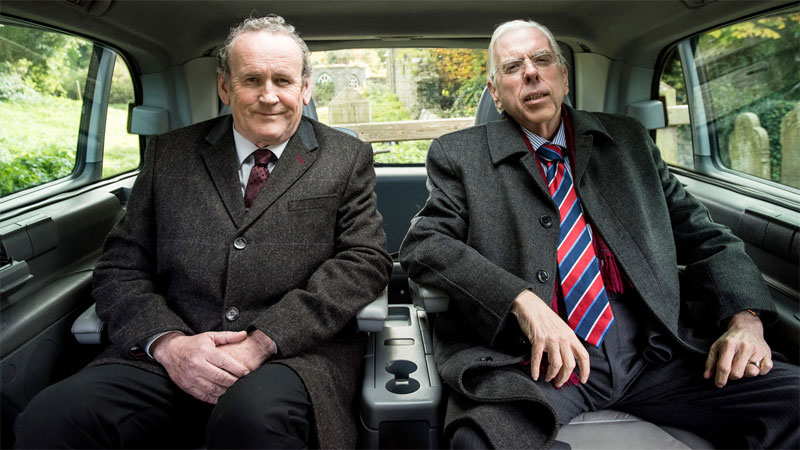 At the beginning Paisley is visibly irritated and hardly acknowledges McGuiness presence, but that doesn't stop chatty Martin to speak his mind, whether it's about nonsense or his political opinions and hopes. Paisley starts to talk to him, but he's not very reasonable and keeps on refering to McGuiness as a terrorists and even mocks him when he wants to make amends for the wrongs he has done. Both of them are intelligent men and their argumentations show the love for their people, so in the end, they find a way to get "along"…or at least, to avoid to get on each other's throat!
My Opinion
👍👎
Actors here have no option rather than being fascinating and charismatic,
not only because the characters they're portraying require it, but especially because 85% of the set consists in closed spaces (in this case, the car's interiors).
Honestly, I found John Hurt's speeches to the driver useless: they should have made Jack understand the historical importance of that journey, yet the added nothing if not minutes to the movie.
That said,
I liked this movie and I'm going to suggest the view to everybody!
The aereal shots were few but suggestive and Timothy Spall and Colm Meaney were the perfect cast choices.
It's hard to say how much is fiction and how much is real facts, but
the spectator can sense the tension between the political parts and the common dislike (not to say genuine hate) between both the politicians.
Would I pay the full prize ticket? I'm not 100% sure about the full prize, but the discount one is totally worth it!

Ranking: 3½/5

Related Movies:
In the Name of the Father
(1993)
with Daniel Day-Lewis, Emma Thompson, Pete Postlethwaite and John Lynch.
Michael Collin (1996) with Liam Neeson, Julia Roberts, Aidan Quinn, Ian Hart, Brendan Gleeson and Alan Rickman.
Bloody Sunday (2002) with James Nesbitt, Allan Gildea, Gerard Crossan and Mary Moulds.
Hunger (2008 - my review

HERE

) with Micheal Fassbender, Liam Cunningham, Stuard Graham and Brian Milligan.
'71 (2014) with Jack O'Connell, Valene Kane, David Wilmot and Sam Reid.
Photo credits: impawards.com, mymovies.it &

ilgiornale.it