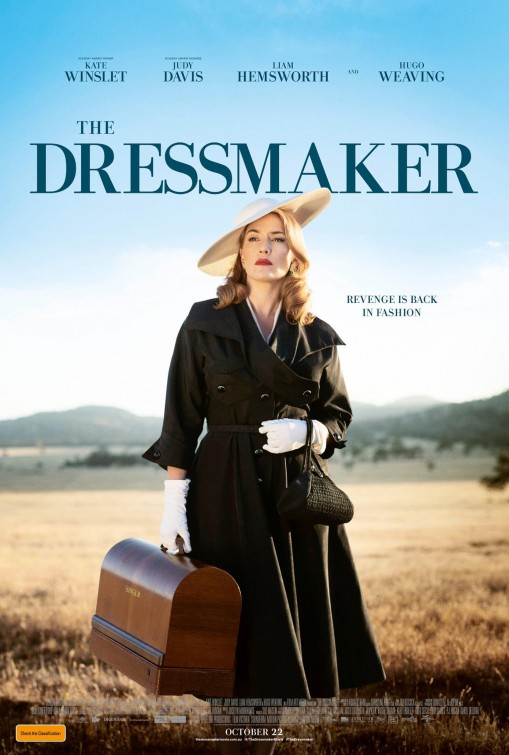 I've been dying to watch this movie since the first time I saw its trailer...or, to be a bit more precise, when I saw Liam Hemsworth shirtless at some point of it!
From that the movie looked like the frivolous and sparkling type of comedy, yet it turned out being more of a tragedy and left me shocked and confused.
If you want to know more, here's my review and thought!
Read More
It's 1951 and the whole story is set in the calm and placid little village of Dungatar, in the Australian outback. However, that tranquility is about to be shook by the return in town of Myrtle "Tilly" Dunnage, who has been sent away following the mysterious death of a young boy, Stewart Pettyman, years ago. But now that Tilly has made a name for herself as a dressmaker in Europe, she's back to get answers!
Tilly's mother, Molly is still living in Dungatar, but everyone is avoiding her and call her Mad Molly. Tilly's comeback isn't celebrated, people are suspicious and treat her and her mother with detachment, yet Tilly is able to work as a stylist and helps a local girl, Trudy, to get a advantageous relationship with an eligible bacherlor, recently returned to visit his snobbish mother.
Eventually everyone want Tilly's creations and she's able to uncover the secrets behind that young boy's death.
She's not alone in this: beside her loony, but hilarious mother, Tilly gets the support of the local police sergeant Horatio Farratt and Teddy McSwiney, an longtime friend of hers.
But right when Tilly finally understands how things went the day of Stewart Pettyman's death, the people of Dungatar gang up against her to keep the status quo and not to admit the truth.
First things first: I applaude Hugo Weaving's interpretation, he's outstanding as sergeant Farratt's character. The screenplay is also amazing and intriguing, Kate Winslet is stunning and engaging

in the role of the

vindictive

femme fatale. She's the anti heroin who once was a sweet and naive girl, now has to play

detached and shady to get

the truth in order to move on with her life.
This movie seems to have been directed by both Tim Burton and Michael Bay; it's a mix of

devious characters, "what the hell" moments and...well, explosions! In Ancient Greece they would have classified this movie as a "tragycomedy", now it would be defined a "noir comedy", but the result doesn't change: you'll be confuse and will have a big 'question mark look' printed on your face 'till the very end!
The only "negative" thing of it is the cast: even if they're fantastic, Kate Winslet and Liam Hemsworth are supposed to be peers, but it's obvious they are not. Even so, I highly suggest you to see it, particularly if you like black humor and if you'd like to be astonished (both in a good and bad way) from minute one!
Photo credits: impawards.com