Wimbledon is the oldest tennis tournament and one of the

four

Grand Slam

tennis tournaments (and probably the most famous!) along with the Australian Open, Roland Garros (French Open) and US Open.
It's my favourite tournament because it takes place during summertime so I can watch every match that I want without having hundreds of things to do and I like that there's a dress code...in fact every player has to wear a white outifit. And because it's the only of the Grand Slam's Four that is played on grass.
Since the 2014 edition is going to start tomorrow (Monday 23rd), here's my list of movie, books and everything that's Wimbledon related!
- "Wimbledon" (2004) directed by Richard Loncraine. With Paul Bettany

,

Kirsten Dunst

,

Sam Neill

Jon Favreau

and

James McAvoy
- After Wimbledon by
Jennifer Gilby Roberts
(novel)
- The Tennis Party by
Madeleine Wickham (novel)
-
Tennis
by John McPhee
-

Wimbledon: The Official History of The Championships by John Barrett
The
tournament has been used as
synonymous of elegance and great performances, in fact the main sponsor partners are Rolex (the Official Watch at Wimbledon), Ralph Lauren (
wears all Wimbledon on-court officials
),
Slazenger (official sponsor since 1902, provides with 52 000 tennis balls!) and Evian (
the Official Water of The Championships
).
Wimbledon in Pop Culture
Famous are the
Charles Schulz' stories on Snoopy going play tennis at Wimbledon!
and last but not least, fashion!
Brands like Lacoste and Fred Perry base on tennis their entire collections and could not be otherwise since their names are from Frederick John Perry & Jean-René Lacoste

,

respectively British and French famous tennis players.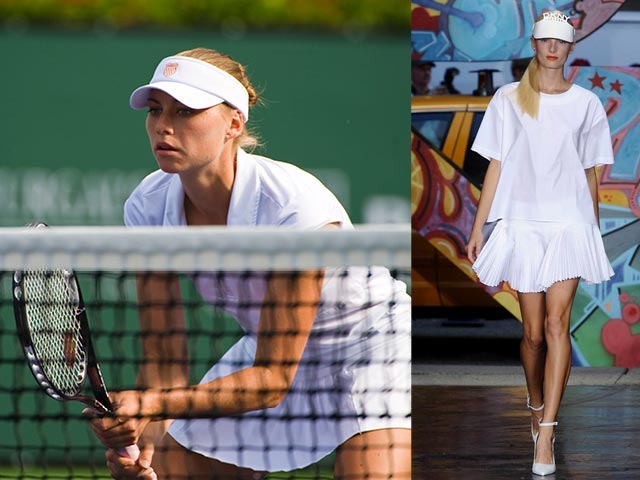 Lacoste S/S 2014 fashion show
Cruciani tennis racket bracelets
Hope you like this little "brainstorming" and if you will watch the tournament, I wish to all of you a Happy Wimbledon!!
Picture credits: all over the Internet