My week with Marilyn
(2011) by Simon Curtis. With Michelle Williams, Eddie Redmayne, Kenneth Branagh, Julia Ormond and Judy Dench.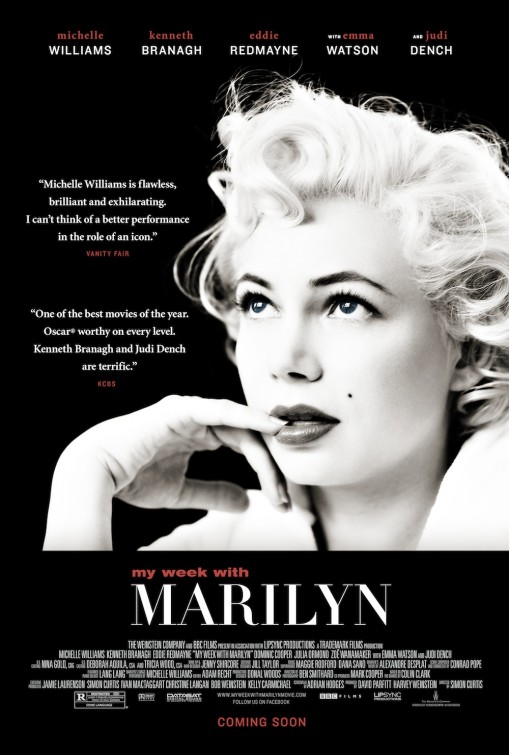 I have to admit that I'm more on "team" Audrey Hepburn than "team" Marilyn Monroe and that I've only saw one movie of her: "

The Seven Year Itch". To be honest...I don't even remember how I got to see My week with Marilyn in the movie teathre in the first place!! But I'm glad I did...
Here's the plot (SPOILER ALLEART) :
Colin Clark (Eddie Redmayne) after his University graduation decides that he doesn't want to follow his intellectual father or brother's footsteps and moves to London looking for a job. After being rejected almost everywhere, he ends up asking for a spot in Laurence Olivier's (Kenneth Branagh) next production. He waits in his office until Olivier and his wife Vivien show up and he gets the job in the upcoming movie The Prince and the Showgirl, starring Marilyn Monroe (Michelle Williams). Colin's first task is to find a place nearby the shooting area for Marilyn Monroe and her husband, author Arthur Miller to stay while they're in England. The press eventually finds out about the house, but Colin reveals he secured a second house (just in case) impressing both Olivier and Marilyn's publicist.
Finally Marilyn arrives with Arthur in England and everybody in the production is excited. The first day (and from that day on) Marilyn reveals to be not like the bubbly blonde girl everyone thought she was, but an actress with many insecurities on her acting skills, which is way she brings her acting coach always with her. The shooting program delays because of Marilyn moods...she arrives late and forgets her lines....during this harsh moment, she and Colin start to get to know each other. Colin gets to know another actress as well, Lady Sybil Thorndike (Judy Dench), who's very kind with him. He also meet Lucy (Emma Watson) wardrobe assistant whom he is attracted to, and they go on a date.
After a few, Arthur Miller has to go back to the States and Marilyn has a break down, due to an Arthur's notebook, which contains the plot of a new play that appears to poke fun at her. Thankfully, Colin is able to console her and they start to spent together as much time as possible. Once, they are given a tour of Windsor Castle by Owen
Morshead, Colin's godfather. He also shows Marilyn around Eton College then they go skinny dipping in the River Thames. Marilyn kisses Colin.
One night, Marilyn locks herself in her room and Colin is the only one who can get and Marilyn invites him to lie next to her on the bed. Colin think that she's going to leave Arthur and stay with him, but Marilyn has a fickle mood and the next day says that she loves no one else, but Arthur.
Colin's a little heart broken, but at the end of the last day of shooting she goes to his B&B to thank him for his precious help.
I didn't read any reviews about this movie before seeing it so I didn't know what to expect. I found it a very cute and well acted movie. I have to say, Michelle Williams is PERFECT for the role and was believable.
Raking : 5/5