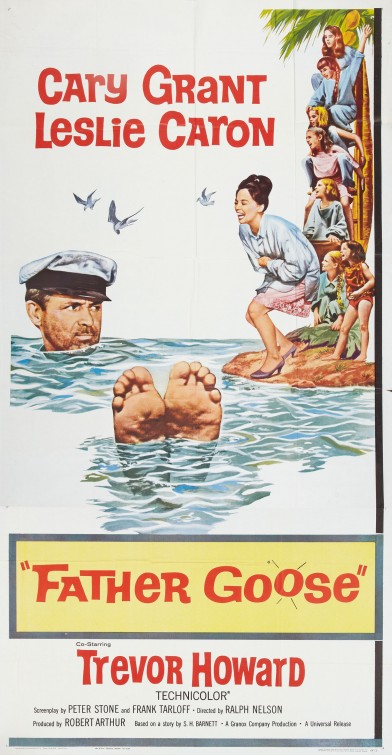 This is probably one of the least known Cary Grant's movie...or, at least, it was for me since I saw it for the first time two weeks ago. A friend suggest it, saying "If you liked Operation Petticoat, this one is even more hilarious!"
Challenge accepted!
Set more or less at the same time and geographic coordinates as Operation Petticoat, Father Goose is about Walter Eckland, an opportunist former professor who travels the Philippines' islands on his boat, trying to take advange from the war situation.
While trying to steal from the US navy supplies, Walter gets caught by an old friend, Comander Frank Houghton, and he's forced to stay on a desert little island and report on the movements on the Japanese airplanes.
Walter is also a drunk, so Comander Houghton hide all his wiskey to make sure he does his job, and eventually reveals him the positions of the bottles.
But one night he has a special mission for Decklan: he has to go on a nearby island and save another US operator, who called for an SOS.
Once there, Decklan finds...a group of school girls and their teacher,
Catherine Freneau
?!
Catherine tells Decklan that they were waiting to be transfered and ended up on the island by case, so he has nothing to do other than take all the girls back to his island...and the
cohabitation won't be easy!
This movie is absolutely hilarious! I don't remember the last time I laugh so much...Cary Grant and Leslie Caron are so tragicomic that it's almost impossible not to love them. And the little girls? You may think they're just background character, indeed they're all important for the story and everyone has a particular character and personality.
If you fancy an old movies night this autumn, I suggest you give "Operation Petticoat" and "Father Goose" a try!
Raking: 5
/5
Operation Petticoat - my review
HERE
Photo credits: