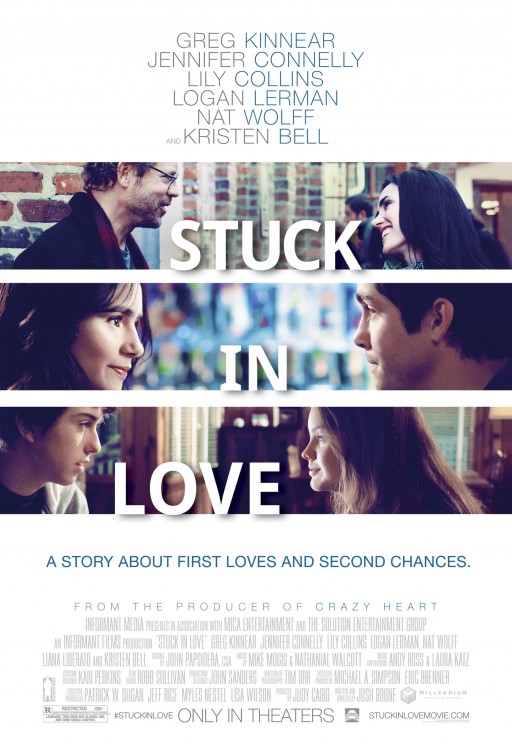 Stuck in Love (2012)
by Josh Boone. With Greg Kinnear, Jennifer Connelly, Lily Collins, Nat Wolff and Logan Lerman.
I like Lily Collins
a lot
, so when I had the chance (a few weeks ago) to watch this movie I grabbed it!
I'm still undecided whether I like Logan Lerman or not, but in this movie he is hilarious!
Enjoy my review and thoughts!
Bill Borgens is a successfu novelist and both of his children want to follow his footsteps. His older daughter Samantha is in college and her first novel is about to be published. Since her parents divorce, Sam avoids relationships and has a cynical view on whatever it is romantic.
Bill's younger son,

Rusty, is in high school, is very shy and quite and has a crush on his English classmate Kate, a very sweet yet troubled girl.
The plot is exactly how it's written on the movie poster "This is a story of first loves and second chances". In fact, after 3 years from their divorce, Bill can't go on with his life and is still in love with his ex-wife Erica. Sam doesn't speack to her and when she meets Louis, a cute and polite guy, firstly she pushes him away but he's obstinate to get to know her. Rusty (on his father's advise) goes to a party, where there's also Kate and helps her with her bully boyfriend.
What I liked about this movie is the casting choices (Jennifer Connelly and Lily Collins could really be mother and daughter) and the bittersweet plot.
Finally! a different and unexpected role for Lily Collins, while

Greg Kinnear and Logan Lerman seem to be stuck (

it is appropriate to say) the first in the "father who doesn't quite well know what to do + with a beach house" role (see The Last Song) and the second in the "sweet and
bit clumsy boy" role (see Percy Jackson & The Perks of Being a Wallflower)
Of course this doesn't take away anything from the movie, which I liked a lot!
photo credits: impawards.com & all over the Internet