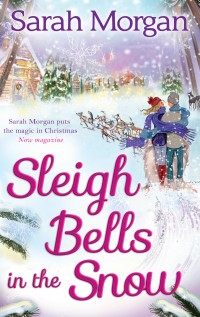 Today I have a 'special' review for you...because this is the first novel of the O'Neil Brothers series, but I have already reviewed the second and third novel. Why? Because I didn't know it was a trilogy and started with the last one! When you say 'be original'!
Here's to you my review and thoughts on Sleigh bells in the snow by Sarah Morgan.
Kayla Green, UK born, NY city based top publicist, hates this period of the year...or better, she tries her best not to think about it: too many painful memories are linked to Christmas.
To avoid parties and celebrations, Kayla accepts a last minute job: spend one week full optional at Snow Crystal Resort, in Vermont and find a way to help it to recover from years of bad business decisions.
Kayla didn't thought about the loud and clear attraction towards the client: Jackson O'Neil. He's outrageously
handsome and determined to bring the family resort to its previous former glory days and he's charmed by Kayla sense of commitment on the job. However, he can feel she's running away from something and tries to make her comfortable enough to talk about it, because it's obvoius to everyone that she's still hurt...will the two of them be able to overstep their problems in order to help Snow Crystal and, ultimately, themselves?
Maybe, thanks to Jackson's sassy brother Tyler and his daughter
Jess
, or the unexpected arrival of the other O'Neil brother, Sean, Kayla will find the streight to speak it out and finally confront her past in order to see her future.
my dream cast
Eion Bailey & Lydia Hearts

(even if Kayla is a blondie!)
What I liked👍
It's no use denying it, Christmas themed stories are dvantaged by the festive atmosphere and when they're set in a snowy landscape, well...it's an easy win!
I particularly appreciated Kayla's character: even if she's a bit shy and elusive, it's safe to say she's sweet, determined and empathetic, just from the relationship she establishes with Tyler's daughter and the fact that, eventually, she manages to conquer also O'Neil grandpa's blessing.
What I did not like 👎
The only flaw of this book is its predictability: you hope (or know?) how things are going to end, that the happy ending it granted...which isn't a bad thing, but the novel loses on suspance.
The characters' journey is full of winterly scenaries and are so detailed and well described that it makes you want to book a mountain getaway.
I really like the O'Neil brothers, especially Jackson, because he's the less 'problematic', someone you can lean on and trustworthy, as well as ironic and positive.
My Vote: 7¾ /10
the O'Neil Brothers series (click on the cover for the review):
Photo credits: goodreads.com - listal.com & zimbio.com