90's kids will (hopefully) remember the movie based on a book by Nicholas Sparks, 'A Walk to Remember', while Generation X sure knows John
Green's
'
The Fault in Our Stars
' since it has been a
worldwide success
first
in 2012 with the book, then in 2014 thanks to the movie adaptation
with Shailene Woodley and Ansel Elgort.
What I'm trying to say it that young adults (YA, also known as 'coming of age') novels became a thing at the beginning of the new Millenium and proofs are visible in any book shops shelves, which have been literally invaded by love stories, more or less tragic, between teenagers or young adults.
Japan loves this "love + teens + terminal illness" combination
and over the years, tons of books and movies on this topic have been produced.
If you're looking for some Asian movies similar to 'The Fault in Our Stars' or 'Five Feet Apart', check the list down below!
Crying Out Love, in the Center of the World
This 2004 Japanese movie is based on the 2001 novel
Socrates In Love
by Kyōichi Katayama.
Sakutaro
and Aki are two high school students and they fall in love with each other. Then Aki is diagnosed with leukemia and has to be hospitalized. Sakutaro will stay by her side, even if it's painful for him to witness his girlfriend suffering.
The film was followed by a manga adaptation and a TV series (both in 2004). One year later, a remake of the movie has been made in Korea in 2005 (My Girl and I - 파랑 주의보) and a second remake was made, this time in China, back in 2016, with the name Crying Out In Love (在世界中心呼唤爱).
Let Me Eat Your Pancreas
Another movie based on a popular melodrama novel, '

Let Me Eat Your Pancreas' by

Yoru Sumino was first published in 2015, in Japan and it became first a movie in 2016, then it also had a manga (2016) and an anime movie
adaptation
in 2018.

Haruki Shiga and Sakura Yamauchi are the complete opposite: he's shy and introvert while she brings joy and positiveness everywhere she goes. But, truth is, Sakura is really sick and when Haruki finds out decides to spend more time with her.
You Shine in the Moonlight Night
(君は月夜に光り輝く)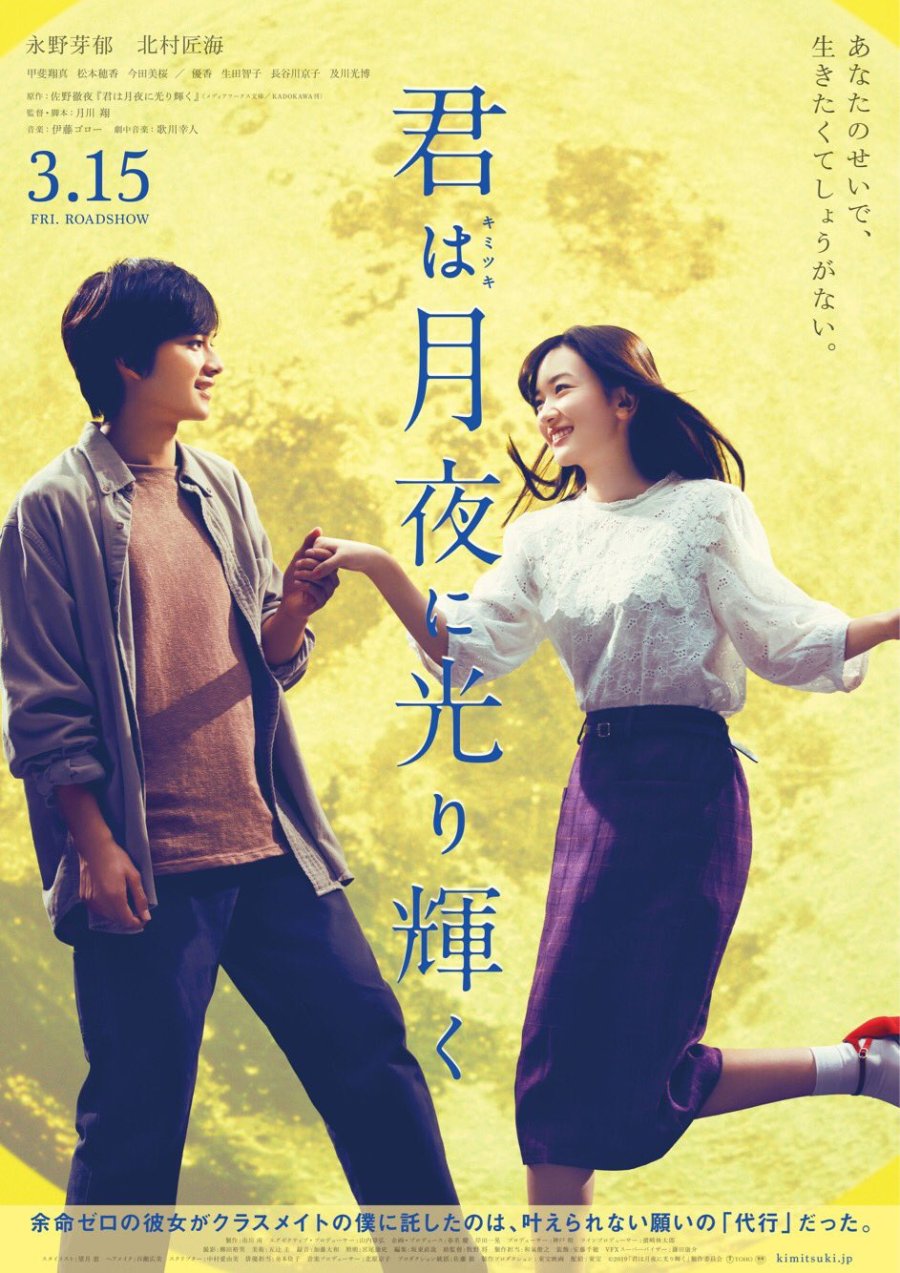 The movie adaptation of Sano Tetsuya's novel hit Japanese earlier this year and it's about the growing love between Takuya Okada and Mamizu Watarase. She has a

mysterious disease called "Luminescence disease" that prevents her to live a normal life, as she's very sensitive to sunlight. So she asks Takuya to help her completing her 'things to do before I die' list on her behalf.
you can read my book review
HERE
Snow Flower
The peculiarity of this 2019 movie is that it was not based on a manga or novel, but on a song!
Yes, you read right...2003
"Yuki no Hana" by

Mika Nakashima is the inspiration that made the sad story between

Miyuki Hirai, a young, weak girl, and Yusuke Watabiki, an honest man, possible.
She
dreams of going to Finland to see the Northern Lights, but one day she's the victim of a
theft. That's when Yusuke appears in her life.
EXTRA
Goodbye Summer
This South Korean movie hit their theatres a couple of weeks ago and this time is the boy the one who's sick. Hyun-Jae is terminally sick and has not much time left. Still, he decides to go back to school, where he meets Soo-Min and falls in love with her.
So, what you think of this list? Would you like to watch some of these movies or are too sad for your tastes?
Ph: asianwiki.com & goodreads.com